Pack Mentality
is one of the two researchable abilities for the
Crawler
, the main early game
Chaos
unit. Its great ability and low cost make it a must-buy for large groups of
Crawler
s
.
Description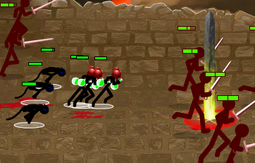 Upon researching the ability, Crawlers will receive an increase in damage scaling up to a pack size of 5. This makes crawlers in groups gain individual damage until the group has 6 crawlers in. This makes them able to dive in and execute low health units from the bonus damage, and to trade well with melee units. It's a very useful ability to chase down and kill weaker units like
Earths
,
Swordwrath
, and
Archidon
s
, and frequently forces an Order or Elemental player to fall back to protect their low hp units, but it would be hard for crawlers to kill against a more tanky
Armoured
units or AoE, like a
Charrog
without heavy losses. This is why the
Crawler
s
' other upgrade,
Predatory edge
, is a great asset and combination towards Crawlers. Usually players would research both abilities at the same time.
Stats
| Cost | 50 Gold 100 Mana (verify?) |
| --- | --- |
| Research time | 30 Seconds (verify?) |
| Unit | Crawler |