Although Stick Empires is a free-to-play game, a Gold Membership can be optionally purchased to increase the amount of content available to the player.
In the unofficial update on April 25th, 2018, all existing accounts were given free gold membership. It is unknown whether this is permanent or temporary (possibly 1 month).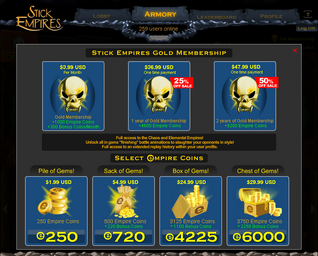 Benefits of a Gold Membership
Free Empire Coins depending on the payment plan selected.
300 extra Empire Coins per month if using the monthly subscription.